Relevant Products: Signature Manager Exchange Edition
Scenario
When using Signature Manager Exchange Edition with a group specified in the policy, you observe that the Policy Tester is showing the correct behaviour. However, when an email message is sent, the membership of this group cannot be correctly identified, so the policy does not get applied.

 
Resolution
Ensure that the appropriate account has "Read Member of" permissions to the user object you are testing with e.g. Colin Smith.

 

For Signature Manager Exchange Edition, you should specify the Network Service Account

For Signature Manager Outlook Edition, you should specify the Computer account for the machine on which Signature Manager Outlook Edition is installed.

 

The step-by-step instructions below show an example with the Network service account:

1. Open Active Directory User and Computers. (dsa.msc).

2. Click View, then Advanced Features: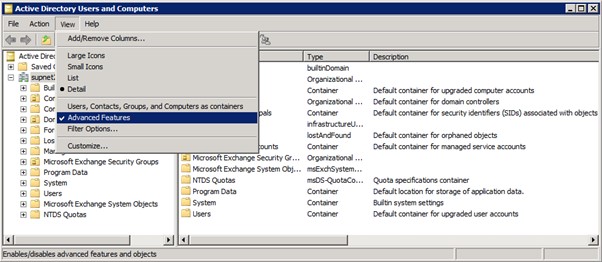 3. Locate a problem user and open their Properties.
4. Click the Security tab, Advanced button, then the Effective Permissions tab.
5. Click the Select button and type the NETWORK SERVICE account. Click OK.
6. Locate the permission Read Member of and confirm that the permission is present: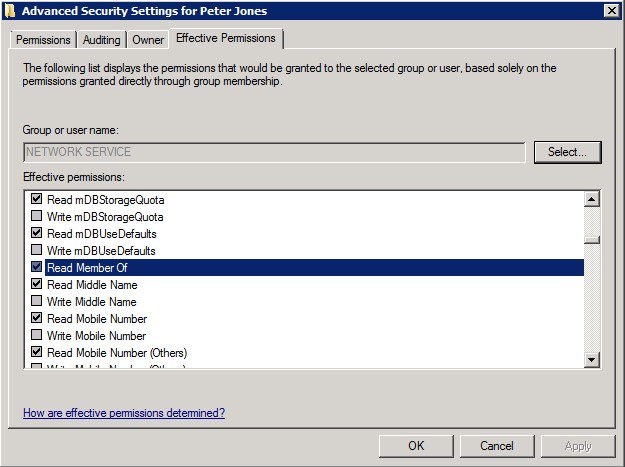 If the Read Member of permission is not present against the NETWORK SERVICE account then follow the next steps below:
To apply the permission change to all users in an OU.
7. Right click the OU and choose Properties.
8. Click the Security tab, then click the Advanced button.
9. Click Add and type NETWORK SERVICE. Click OK.
10. Click the Properties tab and on the Apply to: drop down list choose Descendant User objects: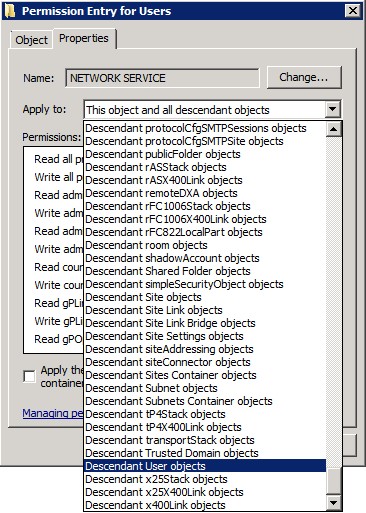 11. Locate the permission Read Member of and tick the Allow check box: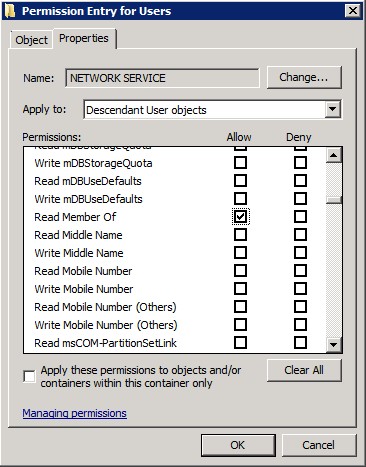 12. Click OK until you return to Active Directory Users & Computers.
13. Repeat steps 1 to 5 above to confirm that NETWORK SERVICE now has the permission "Read Member of".
Note:
In some environments this change may not take effect straight away until the changes have been replicated to the
Global Catalog server
.