Relevant Products: Signature Manager Exchange Edition
Scenario
While installing the Exclaimer Signature Manager Exchange Edition, the following warning message is displayed: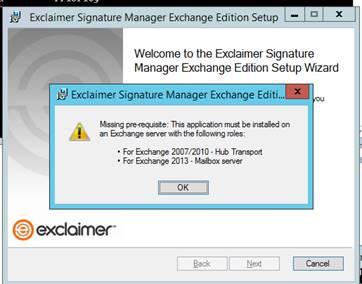 Missing pre-requisite: This application must be installed on an Exchange server with the following roles: For Exchange 2007/2010 - Hub Transport For Exchange 2013/2016 - Mailbox server

Resolution
This issue requires an update in the Windows registry for the installation server.
Warning:
Windows Registry modifications should always be approached with extreme care - serious problems can occur if you modify the Windows registry incorrectly!
We strongly advise you to back up the Windows registry before any modifications are made - in doing so you will have the option to restore the backup if a problem occurs.
For more information, see
How to back up and restore the registry in Windows
.

To update the Windows registry:
Launch the RegEdit (Registry Editor).


Ensure that the following registry key is present:



HKEY_LOCAL_MACHINE\SOFTWARE\Microsoft\ExchangeServer\v14\HubTransportRole\ConfiguredVersion

Here, ConfiguredVersion should match that of the Microsoft Exchange server.
For example: